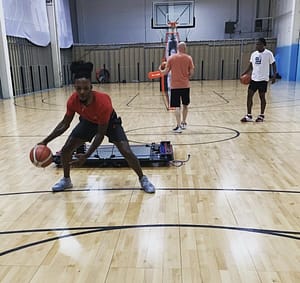 Hoops College offers Vertimax training for basketball players and athletes of other sports as well.  Whether you're looking to jump higher or have a more explosive first step, adding the Vertimax to your toolbox enhances your training in a completely different way.
At Hoops College, we offer two different types of Vertimax training sessions. We offer the traditional Vertimax workout to train athletes to help them increase their power and explosion, with or without a basketball. We also use Vertimax in our basketball workouts to help teach skills while making the movements more difficult.
The prices below are for "Vertimax Only" sessions. If you want to include basketball training with your Vertimax training, you'll get 50% off of your Vertimax training package.
Through our ISSA certification, we also provide strength and conditioning workouts for athletes. All of our strength and conditioning workouts include access to the Vertimax. You can see those options here.
It is recommended that athletes work out on Vertimax two to three times per week. This allows the body time to recover before the next workout. It is also recommended that athletes be at least 12 years old before working on the Vertimax.
Vertimax Training Packages
12
Yes
Yes
6 hours
2
$30 per session
8
Yes
Yes
12 hours
1
$40 per session
4
Yes
Yes
24 hours
0
$50 per session